Alex H 6th and 7thin World Ranking classes in Valencia & placed in GP before COVID stops show
Posted on 22-01-2021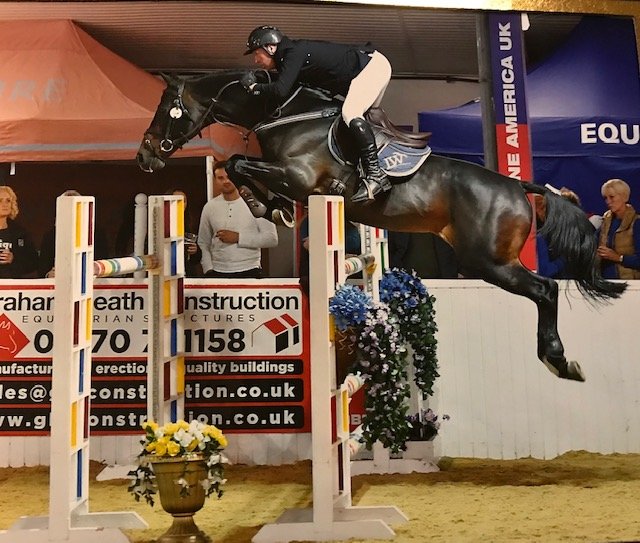 Our consistent and upward moving stallion Alex H ( Goodtimes x Contender X Llandgraaf continues to put in some exciting rounds moving up now to 1.50m level being well placed both days in the World Ranking classes out in Valencia and then also jumping clear in the Grand Prix with just an unfortunate .02 timefault placing him well up in the results. Alex H will be available fresh semen 2021 subject to his competition commitments. His stock are already out there winning themselves. Contact Pat Ruck 07908 785588 for stud details
ALEX H ( Great Times) goes Grade A
Posted on 07-02-2018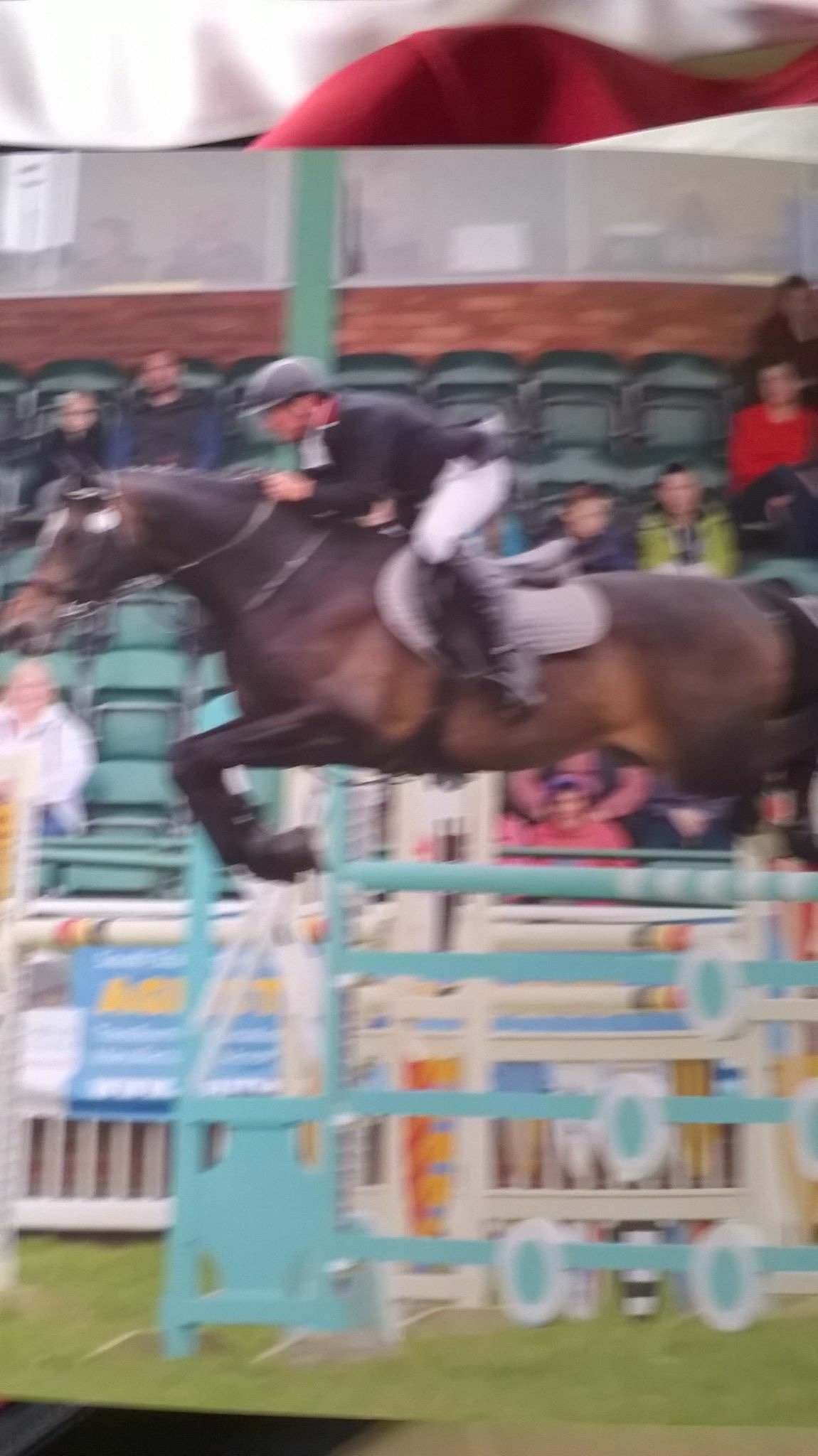 With 32 wins and numerous placings in 2017, our fabulous Approved stallion Alex H ( GOODTIMES X CONCERTO X LANDGRAAF)
is now Grade A. Alex is currently having a short well deserved winter rest before commencing showjumping and stallion duties this spring. He is fully Approved AES stallion available fresh chilled semen. Take advantage of our early bird booking fee £600 (50% returnable if not in foal at 1st Oct, normal stud fee is £800).If booked before 1st March 2018
Excelibur P WINS Global Tours small Grand Prix London
Posted on 13-11-2017
The exciting Sport Horse Centre Stud bred young stallion Excelibur P ( Vermont x Jimtown x Nimmerdor) continues to impress under his new ownership Old Lodge with rider Louise Saywell, winning the Global Tours small Grand Prix on his International Global Tours debut in London. This BRITISH bred horse looks truly world class having also just jumped an impressive effortless round in his first 1.60m world ranking Grand Prix at HOYS.
Great Times (Alex H) Qualifies HOYS
Posted on 09-08-2016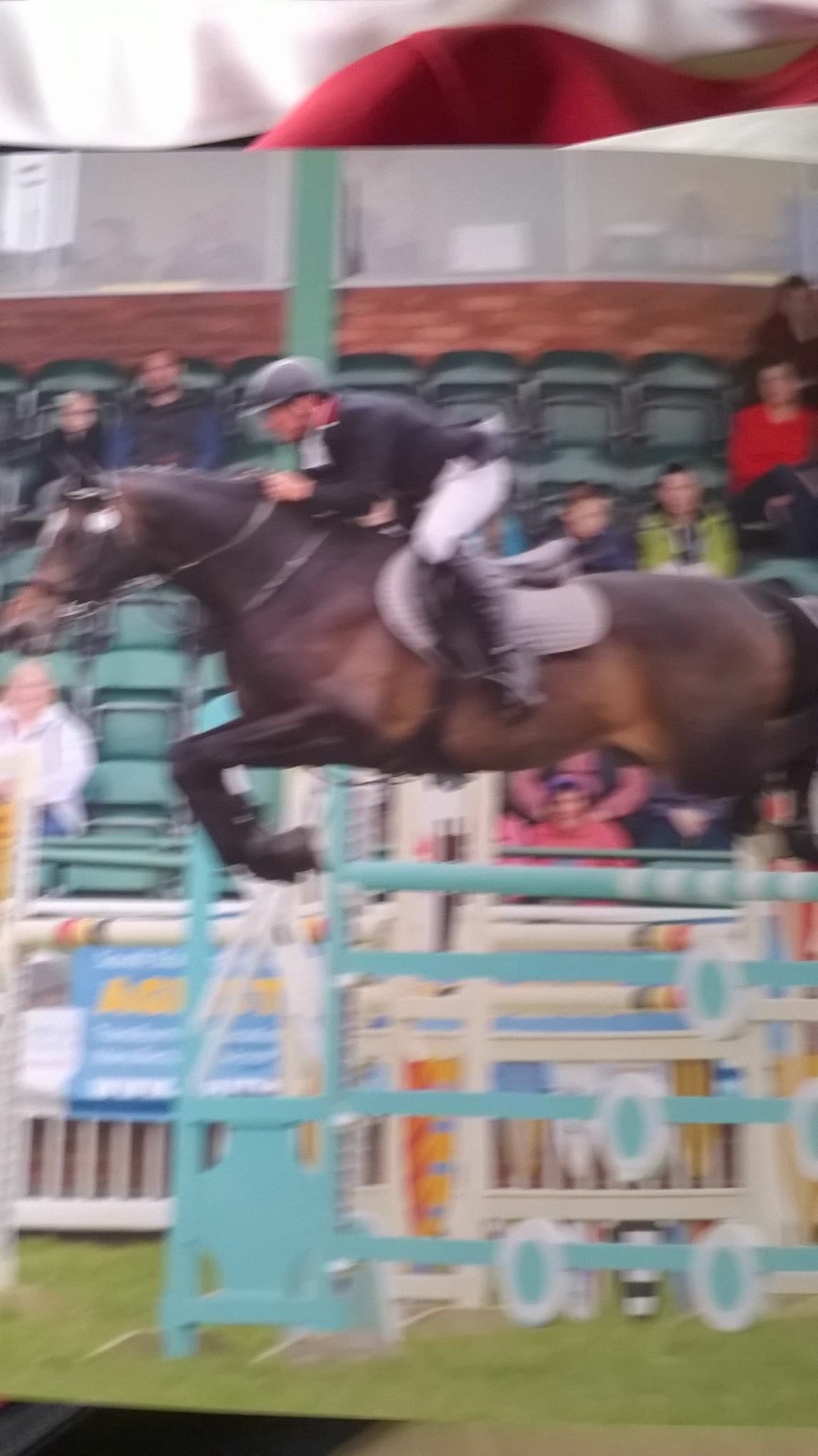 THE SUPER AES approved stallion Great Times (BSJA Alex H) PROVED YET AGAIN HE IS THE TOP SILVER LEAGUE HORSE IN THE UK by qualifying HOYS yesterday at Keysoe Regional final, Described this week by a top KWPN Dutch breeder as "THE BEST STALLION SON OF GOODTIMES IN THE WORLD TODAY", Great Times youngstock are all looking to have inherited his movement, jump and intelligence and excellent conformation for dressage eventing or showjumping. He is still available for breeding fresh semen this year.
Double Dutch qualifies HOYS Foxhunter
Posted on 09-08-2016
The beautiful and consistent KWPN mare Double Dutch by Indoctro has qualified for the prestigious FOXHUNTER final at HOYS with Derek Moreton
C'est Seppel Qualifies HOYS Talent seekers
Posted on 09-08-2016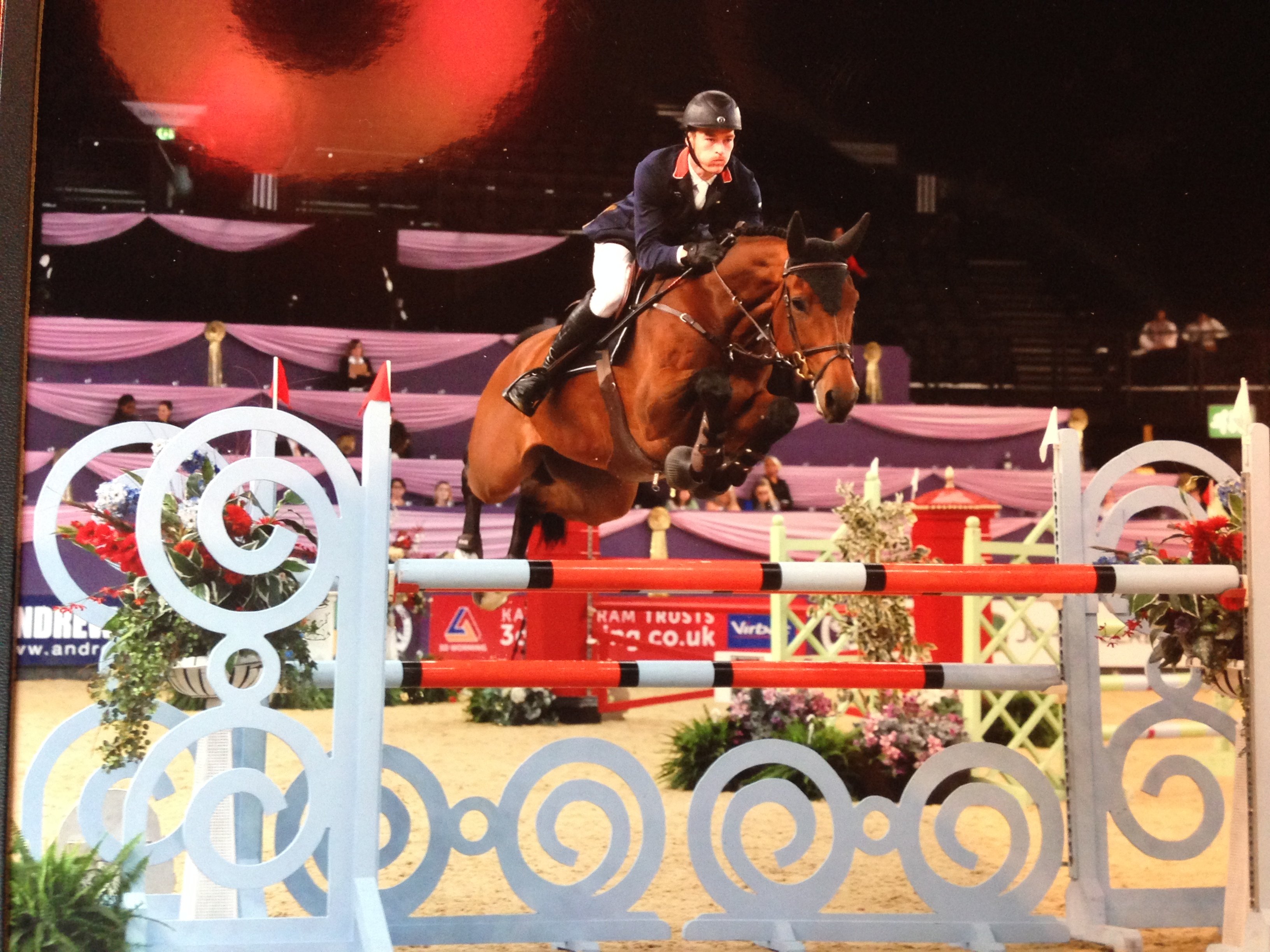 The exciting C'Est Seppel, 2nd last year in the HOYS Grade C final has qualified HOYS again this year, this time in the Talent Seekers with Lance Whitehouse, by Codorbez out of an international mare by Monsier (TB) C'est Seppel is a true International prospect with scope to burn
Excelibur P wins Bicton Newcomers Regional to qualify HOYS
Posted on 09-08-2016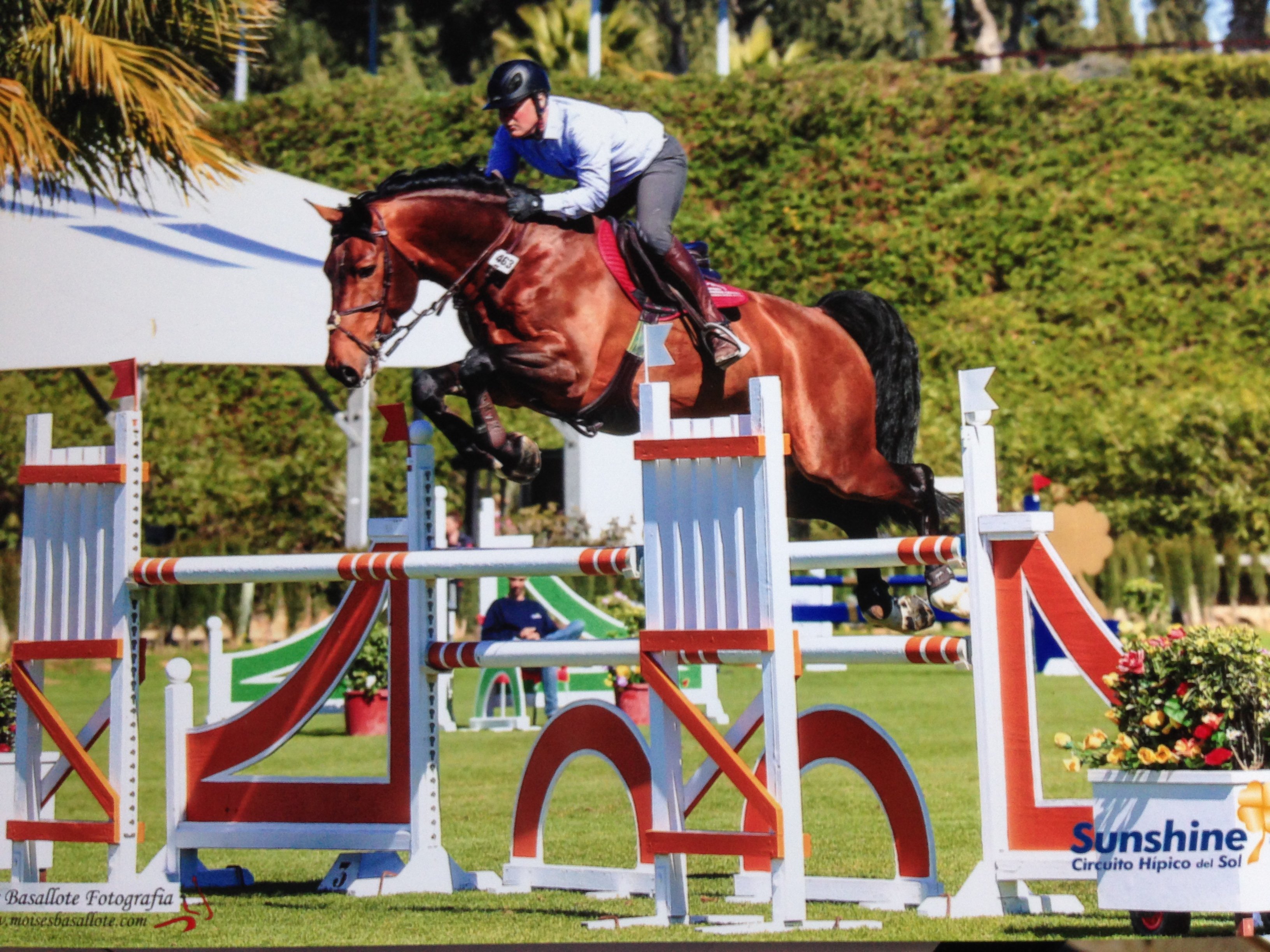 Following on from his many successes in Spain sunshine tour, our homebred stallion Excelibur P (Vermont x Jimtown x Nimmerdor) won the Newcomers Regional final at Bicton to qualify HOYS.
Excelibur P wins 7 yr old CSI *** Vejer Spain
Posted on 04-04-2016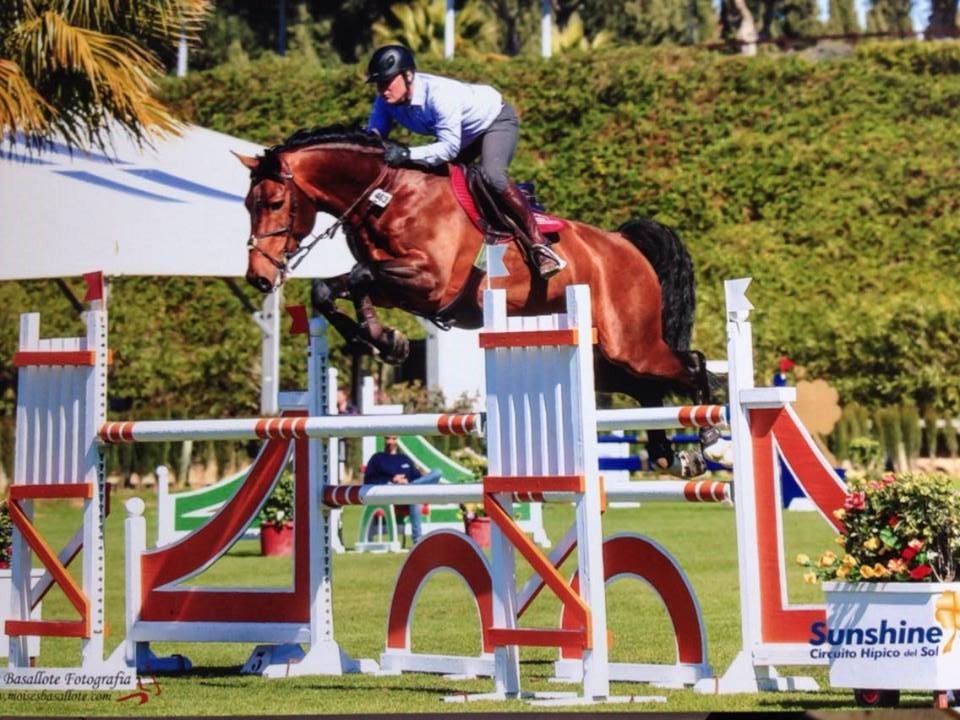 A superb sunshine Tour for our homebred young stallion EXCELIBUR P (Vermont X Jimtown x Nimmerdor) in Spain. Four equal firsts, 4th, 6th and culminating with an outright win in the 7yr old series Vejer De La Frontiere. Grand Prix prospect.

Alex H ( Great Times) Tops the BSJA table
Posted on 18-01-2016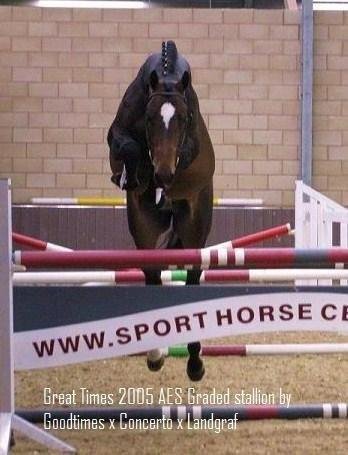 Alex H ( Our AES Approved stallion by GOODTIMES X CONCERTO X LANDGRAAF)is on tremendous winning form with a record 8 BSJA Wins in a row, his latest win being the 1.30m at Vale View saturday, putting him top of the BSJA SILVER LEAGUE IN JUST TEN WEEKS!!! BOOK HIM NOW FOR THE 2016 Stud season and received 10% stud fee discount before 31st Jan.
11th September C'Arilla & Louise Davison winning dressage team
Posted on 13-10-2015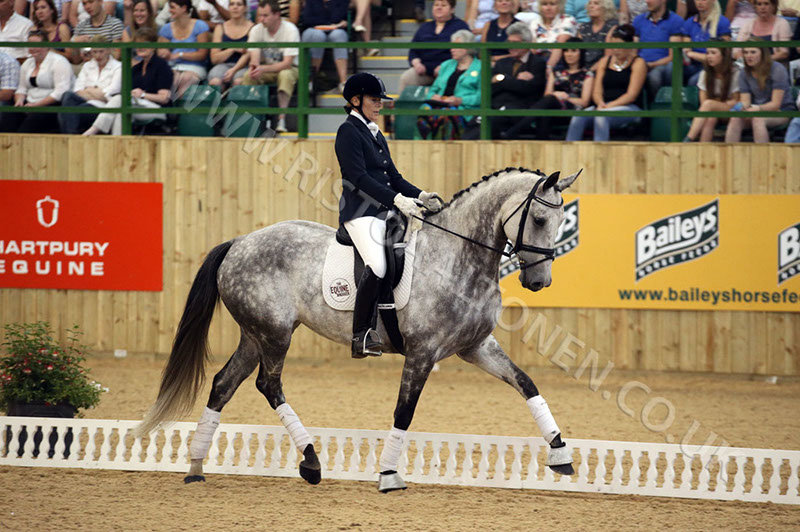 A win in the advance Medium at the Beaver Hall dressage Championships was quickly followed by winning the Advanced FEI Trophy class as well. A huge well done to Louise recently back in the saddle after her shoulder injury.
11th October C'Est Seppel 2nd HOYS Grade C final
Posted on 12-10-2015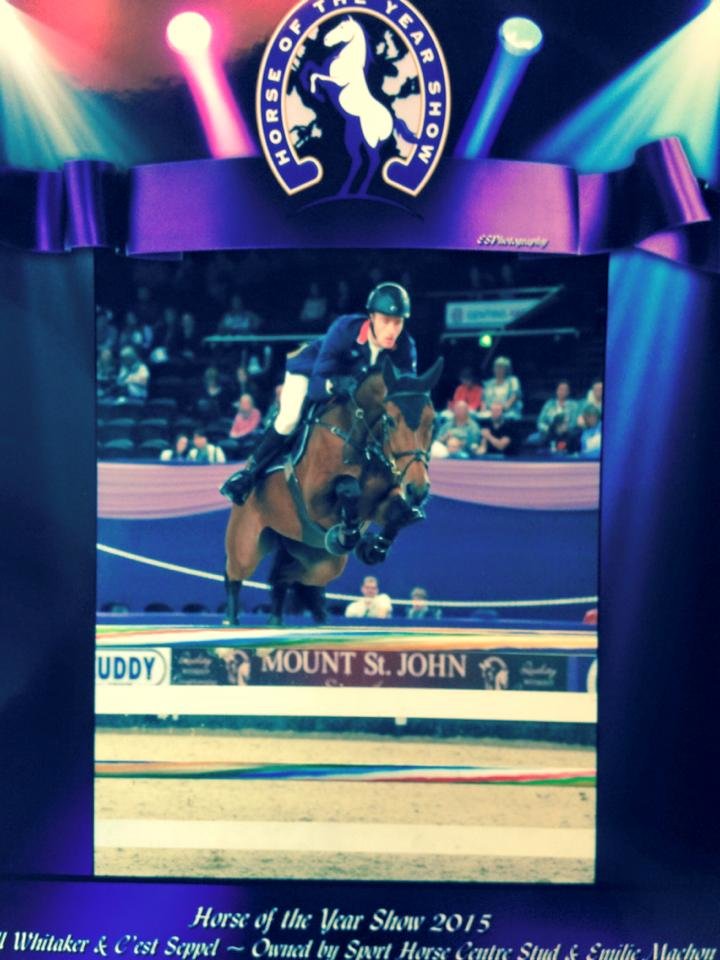 AMAZING Result at HOYS for Sport Horse Centre Stud horses. a brilliant 2nd in the Grade C championship for Emilie Machon and Sport Horse Centre's C'Est Seppel ( Cordobez (contender) x Monsieur tb / brilliantly ridden by WIll Whitaker . Just pipped by Joe Clayton in a fantastic jump off. Whittaker's 1 2 and 3. Well done to all the team including Zoe Adams who initially qualified him
7th October DENVER P at HOYS Newcomers final
Posted on 12-10-2015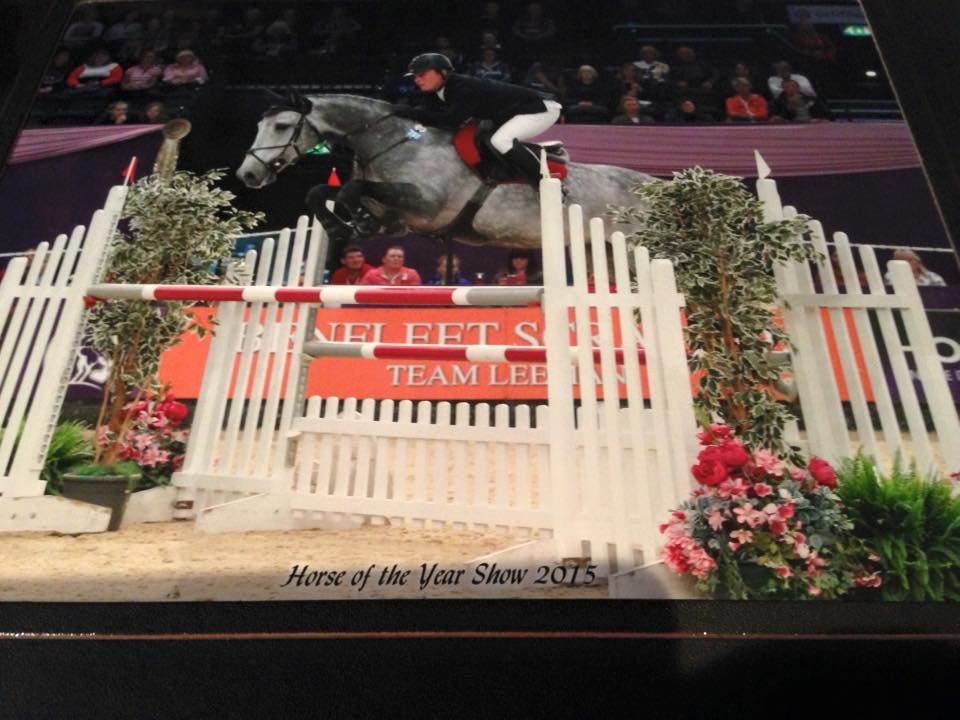 So proud of our big baby homebred stallion Denver P ( Cardento x Burgraff ) and of David Wingrove - a very creditable tenth in the Newcomers Championship at HOYS. Early jump off draw meant David had to go for it and had a very unlucky fence. Can't wait to see this horse jump Grand Prix as nothing phases him - or David!! Well done to both.
22nd August 2015 Valentin R Does it again at Aachen
Posted on 23-08-2015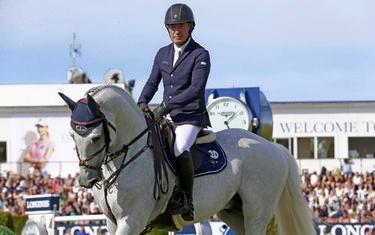 The brilliant Michael Whitaker does it again/ pulls out all the stops to qualify Us for Rio and then another fantastic result with valentin R second again yesterday at Aachen at the Europeans only beaten ..03 of a sec. John would be so proud !!! Hope Val's baby brother by Quazimodo turns out as good and dam Ocieni who has already bred two Grand Prix showjumpers is in foal to Action Breaker for next year. Exciting times!!!!!!
August 18th Valentin R 2nd at Aachen
Posted on 21-08-2015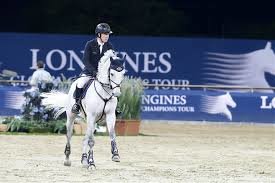 Valentin R and Michael Whitaker second in Aachen From a strong field 0f 48 International riders. The grey stallion by Heartbreaker x Indorado added to his success on the world stage yesterday at the prestigious Aachen Horse Show, taking his winnings to over £60,000 in the last year.
16th August 2015 Denver P at the Nationals
Posted on 17-08-2015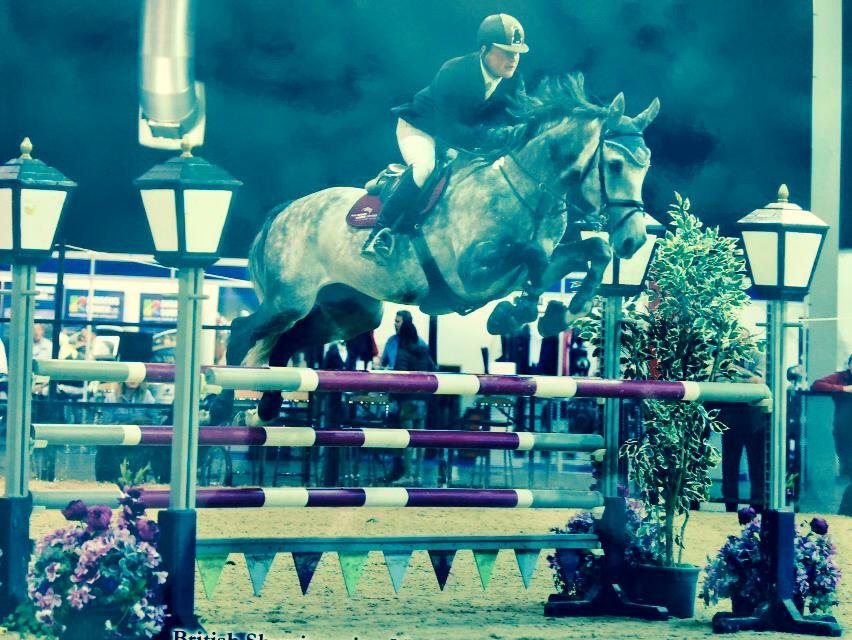 Our beautiful homebred stallion Denver P once more did John proud yesterday. Copy book db clear and. 5th in the very hot Newcomers Masters final at the National Championships with David Wingrove
15th August Apeldoorn P at the Nationals
Posted on 17-08-2015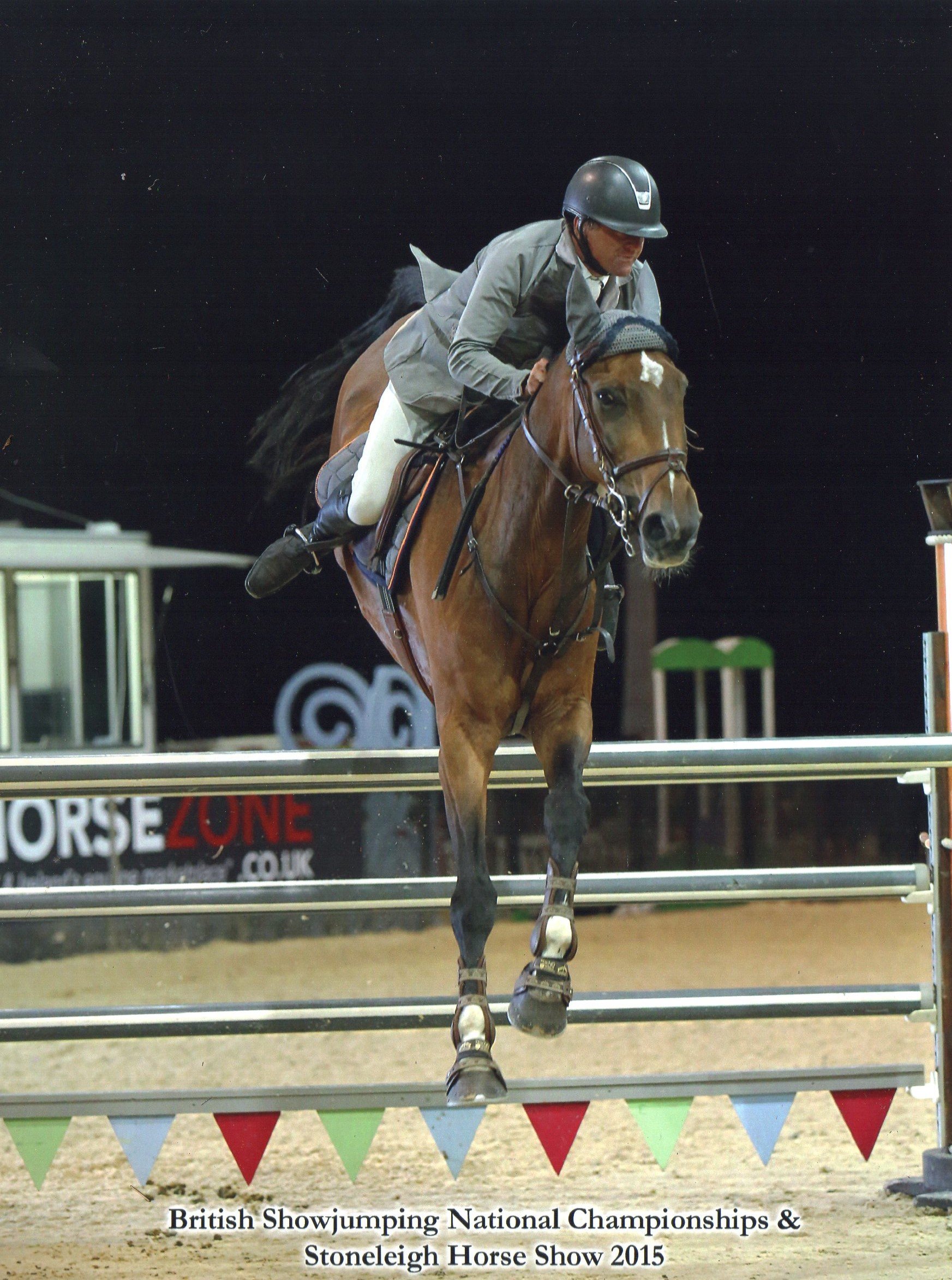 Appledorn P and Mark Thompson 3rd in both National grade C qualifiers and db clear and fifth also in the final.
9th July 2015 Seppel Qualifies for HOYS
Posted on 17-08-2015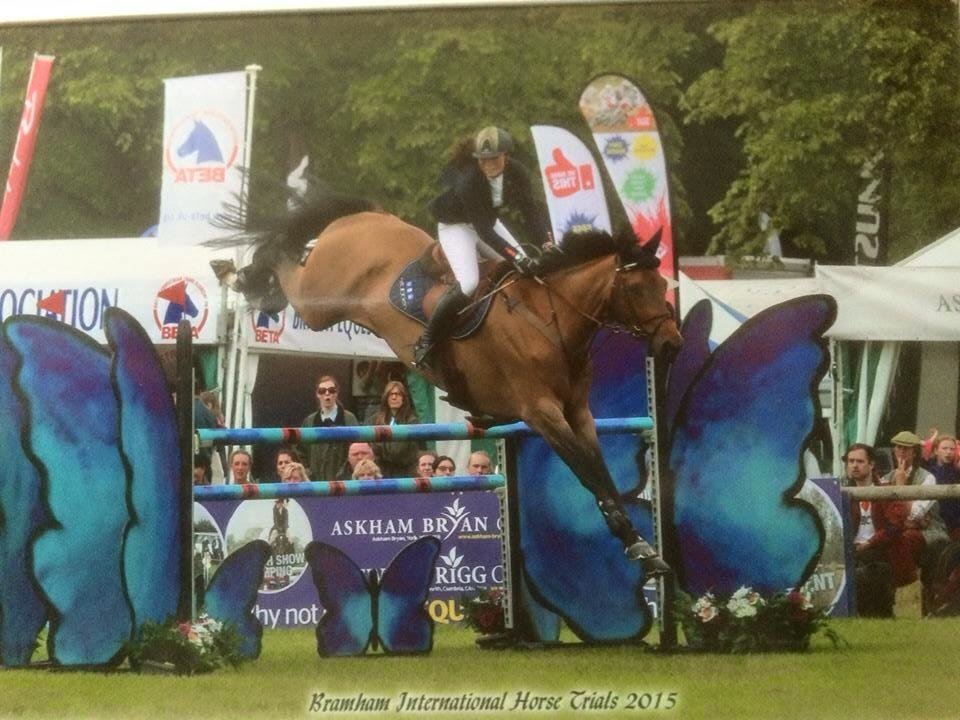 Cest Seppel (Cordobez x Monsieur xx) qualifying Hoys grade C with Zoe Adams at Brabham
June 27th 2015 Denver P Qualifies HOYS
Posted on 17-08-2015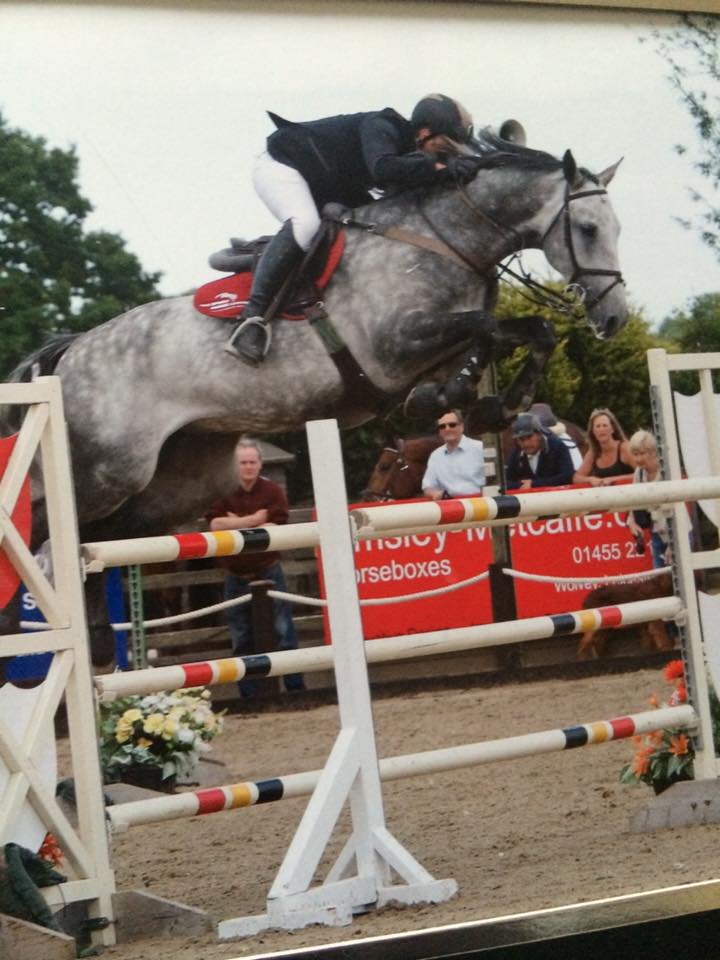 Great day for the sport horse centre homebred Stallion Denver P qualifying for HOYS in the newcomer second round, coming second out of 130.
Sport Horse Centre horses finish 2014 on a high!
Posted on 06-01-2015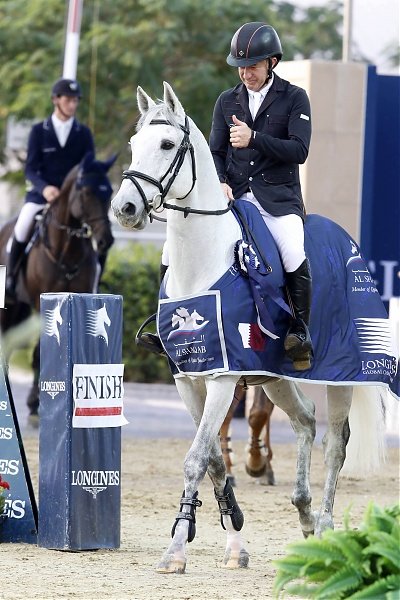 2014 saw Sport Horse Centre bred and produced horses winning on the world stage. It is great to see all those years of hard work with our breeding and production of young sport horses coming good.

Both the stallions Valentin R (Heartbreaker x Indorado) and Cloud Nine ( Lando x Calido) had a fantastic end to the year. With Valentin R winning the 1.55m final with Michael Whitaker in Doha at The Global Champions Tour Final and then 2nd at Olympia AND Cloud Nine helping Ben Maher win leading rider of the show at Olympia with amazingly consistent placings all week of 2nd, 3rd, 5th and 7th in the Masters in world class company.

The young stallions Denver ( Cardento x Burgraaf) Excelibur ( Vermont x Jimtown x Nimmerdor) and Colorado (Cloud Nine x Matterhorn) also continue to show fine form progressing now through foxhunter/Grade C so we look forward to an exciting year with them all in 2015
Valentin R 3rd in S'Hertogenbosch Grand Prix
Posted on 23-03-2014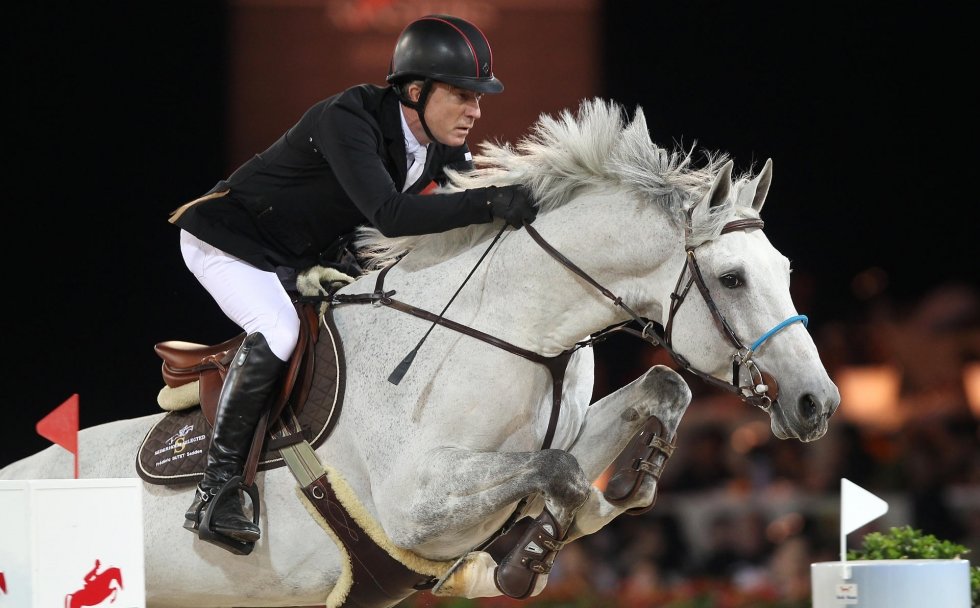 This evening in S'Hertogenbosch at the World Cup International show, the stallion Valentin R ( Heartbreaker x Indorado)was third with Michael Whitaker in the Saturday night Grand Prix, a great result for a horse which has only just move up to International level.
Valentin R starts his International show jumping career
Posted on 24-02-2014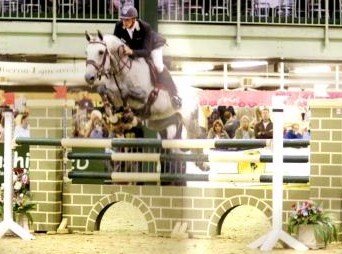 Valentin R AES approved stallion by( Heartbreaker x Indorado) is now co owned by Michael Whittaker and Millie Machon and has a good start to his International showjumping career being well placed at both Bazel and Leipzeg internationals and will be jumping this week with Michael at the Hong Kong MASTERS. He will be available for breeding 2014 frozen semen and limited fresh subject to his jumping commitments for details contact the Sport Horse Centre
Double win for Sport Horse Centre Carilla at Dressage Regionals
Posted on 24-02-2014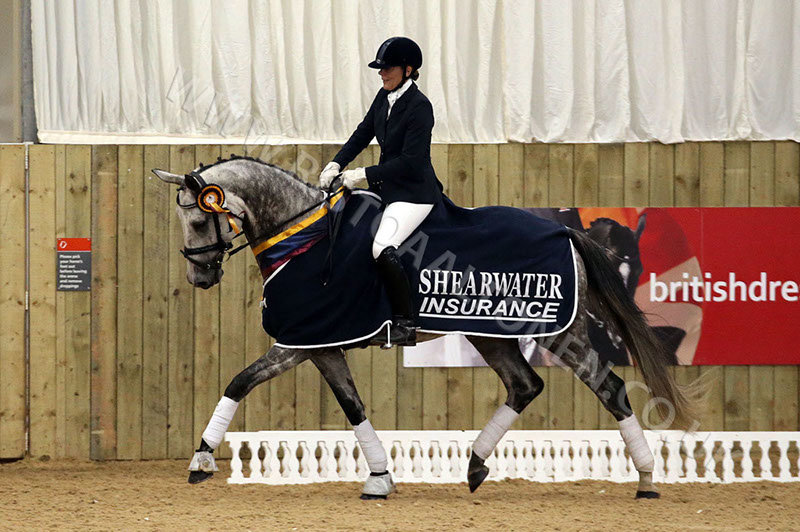 Sport Horse Centre Carilla ridden by Louise Davison won both the Elementary and medium music Regional finals at Myercough. A long drive to Myerscroft paid off for Louise and CARILLA , as they won both regions finals, the super talented mare by Flemmingh out of our Keur Preferent KWPN mare Ozarilla, has only just moved up to medium level, yet scored 78%. The combination are now on the UK Worldclass scheme.
Carilla wins best British bred young dressage horse award
Posted on 24-02-2014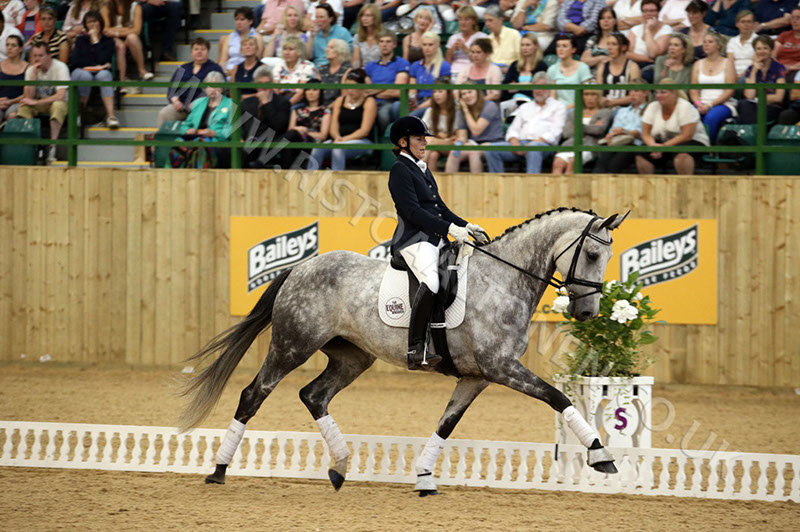 At the BEF Breeders awards held in London recently Sport horse centre carilla was awarded best british bred dressage horse. In 2013 as well as winning the regional finals, third in the British Masters at Hickstead Interbational and being the first British Bred horse to qualify and compete the Dutch PAVO cup final, she also culminated her season by winning the Shearwater 6 year old dressage horse National championship with Louise Davison.