Hire our facilities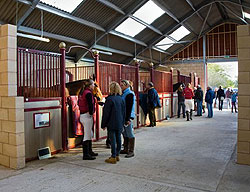 The facilities at The Sport Horse Centre are available for private and event hire.
Indoor Arena for individuals
The indoor arena is available for hire to private individuals and trainers at a cost of £25.00 per hour plus VAT. INCLUDING USE OF SHOWJUMPS IF REQUIRED. Maximum four horses per hour.
Indoor Arena for clubs & Breed Societies
The indoor arena, collecting ring, in-hand trot up area, plus cafe, and use of office/boardroom and viewing facilities are also available for hire to Clubs Breed Societies and show organisers at a cost of £500 plus VAT per day including lighting. Because the Sport Horse Centre aims to encourage the development and improve of BRITISH BREEDING, our facilities are available for hire to Breed Societies at a special consessionary rate of £400 per day. Our meeting room which includes use of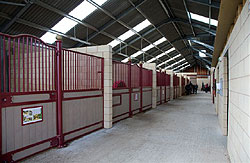 Audio Visual facilities is also available for hire at a cost of £25 per half day. Refreshments can be provided.
Indoor Stabling
Limited indoor stabling is also available at a cost of £22 per day, additional temporary stabling can also be provided for outside events but must be prebooked at least four weeks in advance.
Horse livery
DIY - Limited DIY stabling is available for competition horses. - Please ring for details - 07908 785588