About us
Midlands sport horse sales and marketing centre
The concept for the Midlands Sport Horse Sales & Marketing Centre and associated Central Sport Horse Breeders Group was formed in 2004 by Midlands producers Pat Ruck and John Brake who have purchased, trained & sold sports horses for over 25 years. They realised that the Global market for sports horses had altered significantly but the UK Industry had not progressed at the same pace as Europe, where breeders, producers & Breed Societies, have worked together to produce world class sports horses. Following extensive study tours to Holland and Germany, the importance of adopting a clear market-led breeding strategy, with a co-ordinated approach to sports horse production right from foal conception through to end sports horse customer became apparent.
European Style Sport Horse Production & Sales Centre
In 2005, plans were put in place to build a major new European Style Sport Horse Production & Sales Centre on their existing farm premises at Ryton-on-Dunsmore, Warwickshire, five miles from the Royal Showground, Stoneleigh. The aim being to place the UK firmly back on the World stage as a leading provider of top class sports horses.
Dutch system
The Centre was opened in October 2007. It has been modelled on the highly successful Dutch system whereby a Central Stud and Sales Centre works closely with its network of farmers and breeders to consistently assist and advise on all aspects of Sports Horse breeding and provide first class facilities to present & sell the top quality sports horses produced. This system has been so successful that currently the Dutch and German Sports Horse Industries supplies nearly 85% of all young sports horses purchased by competitors in the UK.
Facilities
The Centre services UK and international equine buyers with top quality young sports horses for showjumping, dressage and eventing and is unique in providing a complete sports horse breeding advice, meeting, training, marketing and sales facility. The aim being to establish a co-ordinated farmer/ breeder/ producer/ purchaser infra structure here in the UK. It involves the development of a fully integrated indoor and outdoor sports horse complex.
Services
A large sale selection of high quality pedigree 3 and 4 year old sports horses for showjumping, dressage or eventing, presented in a first rate trial environment.
Regular sale Open days Individual trial facilities, with purchase advice (if required) from top trainers.
Advice to breeders on breeding direction & strategy Help with broodmare selection and sourcing Advice on suitable stallion selection
Full A.I. facilities for mares, access to fresh chilled and frozen semen from approved sports horse stallions worldwide.
Training and presentation of young sale stock on behalf of breeders.
Preparation of stock for grading, stud book entry and keuring.
Marketing and Agency service for sale horses including a database of details of all sale stock
Grading days and facility hire for Breed Societies and Breeding Groups including meeting room hire.
Demonstration and training days with guest trainers, judges and riders from the UK and overseas.
Working with Europe
Advice and technical support for this project has been received from one of The Netherlands leading Sports Horse Producers, VDL Stud. Together with our breeders we are working in close co-operation with VDL to develop a world class Sports horse Breeding, Production & Sales Centre here in the UK.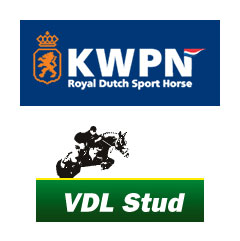 VDL Stud is responsible for many of the World's most influential Sports Horses and Stallions, including Nimmerdor, voted stallion of the 20th Century, as well as Olympic Showjumping Gold medallist Jus de Pomme, Olympic silver medallist Cardento and World Breeding Ranked stallion Modesto, plus top dressage progenitor Flemmingh, sire of dressage superstars Krack C and dressage world cup final reserve champion Lingh.
The Centre is also working closely with Sports Horse Breed Societies worldwide and in particular with the KWPN, which leads the world breeding rankings for Show jumpers and is second in the World ranking for dressage horses. We have taken the Dutch KWPN Society as our adopted sport horse breeding model because the KWPN has a clear and objective focus in relation to breeding goals, production and ultimately sales. They have realised the critical factors in the production of quality sports horses, namely the evaluation of breeding stock in relation to pedigree, conformation, performance and genetic indices.